A personal review by Alastair K Daniel

2018 marked the 27th Festival at the Edge and its second year at Alderford Lake (near Whitchurch in Shropshire). According to the blurb on the website, it is a place where 'an eclectic mix of artists from around the globe bring their art to the ears of visitors from all over the UK', and few visitors to this year's event could argue with that.
The festival transforms the land around lake with marquees, stages, catering trucks, generators and, of course, portaloos (of a superior nature). And then there are the campers, who arrive with the full range of canvas and nylon that you will see at any summer festival. Having said that, Paul and I prefer to forego the full festival experience and opt for the guarantee of a good night's sleep by finding (like many others) accommodation near-by.
At any festival you have to make choices about what you are going to see, and so this account can only be partial, but I will highlight some of the things that I saw and that made an impression on me.
As last year, as people arrived, the weather did not bode well for the weekend, and the heavens were providing what could be seen either as relief from the dry heatwave, or as a disappointing start to a festival weekend. However, the weather gods were looking down on Shropshire and the rain stopped in time for the opening ceremony, which involved multiple performers and large-scale puppets (including a goose which was carried across the lake in a boat, a burning torch lighting its route to the shore).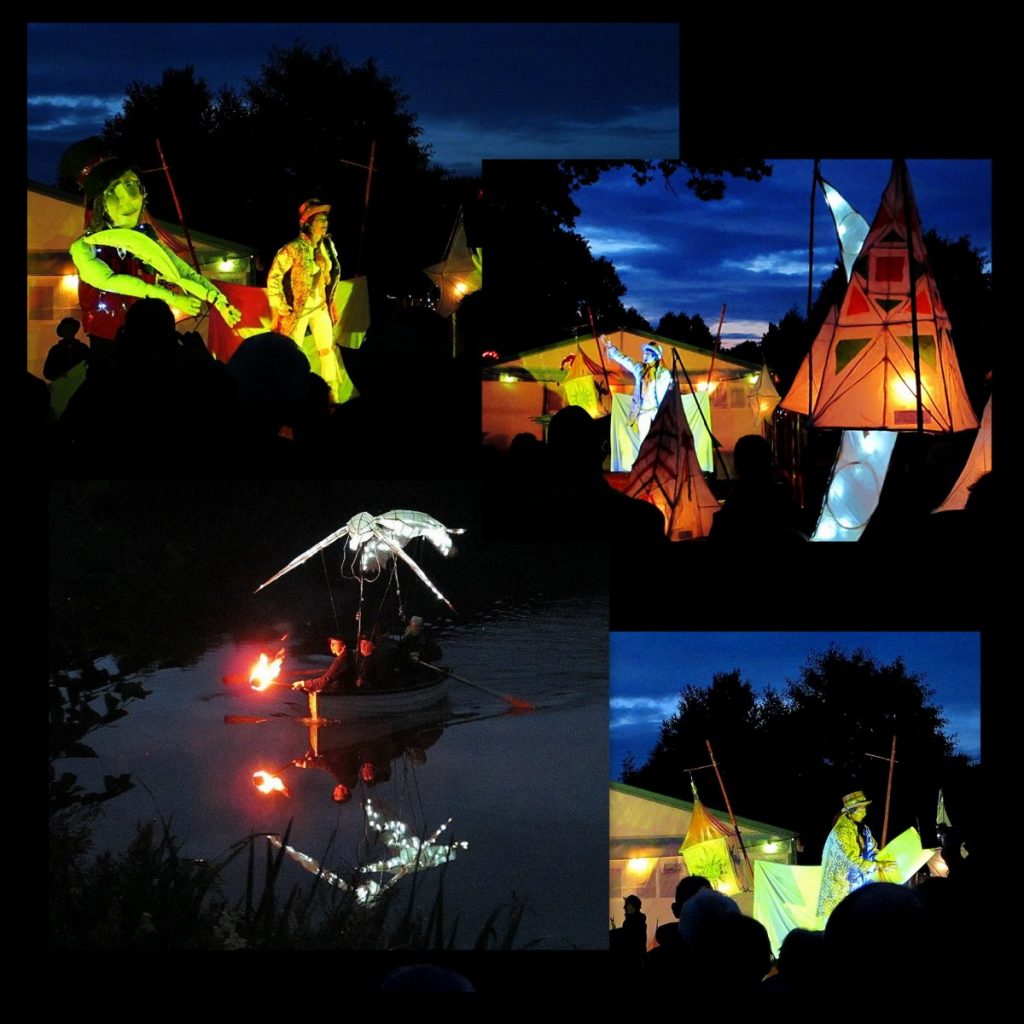 Over the weekend I managed to see such stalwarts as Peter Chand, Shonaleigh and Daniel Morden. But the highlight (and revelation) for me was Len Cabral, a teller from the US who celebrates his Cape Verdean heritage through story. In his set, 'Buzz Buzz Buzz once there was', Len demonstrated a style of storytelling in which the verbal, the vocal and the physical came together to make the fables that he was telling come to life in front of us. My own background is in mime and physical theatre and so I was completely mesmerised by the way in which he could use his body to illustrate episodes as he narrated them, punctuate the narrative, and convey emotion through fluctuating his physical tension from moment to moment. And, at the same time as demonstrating physical virtuosity, he was able to maintain a conversational lightness to his telling that blended effortless humour with the truth that is revealed through fable.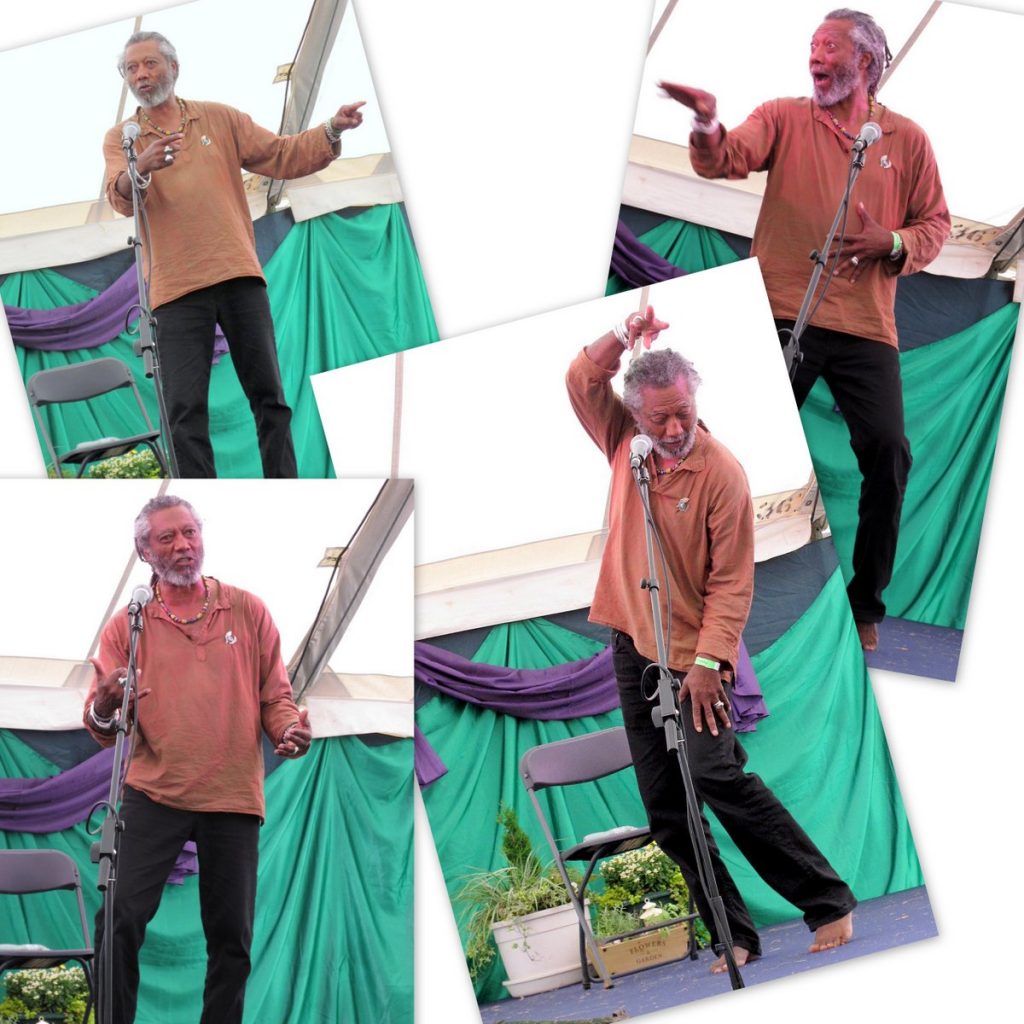 The other stand-out storyteller was, for me, Mara Menzies from Edinburgh, and I would certainly take any opportunity to experience her telling again.
As well as the storytelling, there are many other events at FATE, including circus and choral workshops, morris dancing (and coming from a folkie family, I can assure you that this was jolly good morris dancing), and a full programme for children. One moment of absolute joy for me was the realisation that Hand to Mouth (puppet) Theatre were performing. I had seen their show 'Piggery Jokery' some twelve years ago at a puppet festival in Belgium, and loved it so much that I went twice; the chance to spend a delightful half-hour watching the seasons turn and the cycle of life play out on a tiny stage, and all to the haunting accompaniment of a hurdy gurdy, was bliss – and the show was still as fresh as it was twelve years ago.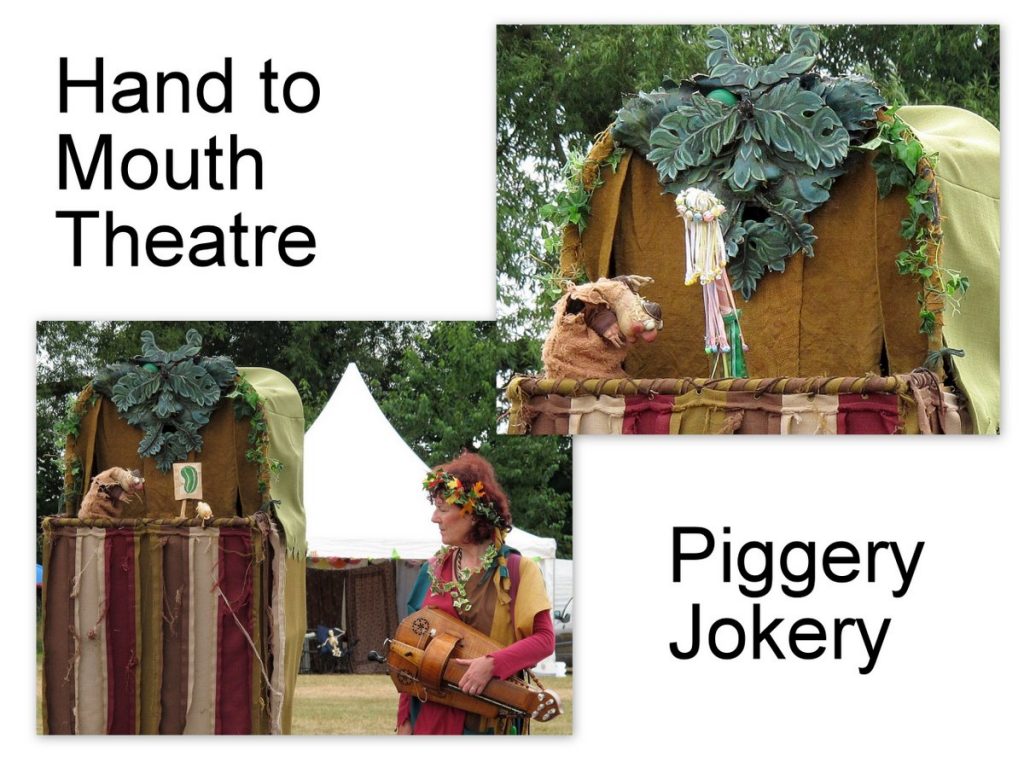 In addition to all of the (mostly) wonderful storytelling that you get to experience in a short space of time, there are many things that make FATE memorable. There are the sounds drifting from the music tent, occasional eruptions of quirkiness from the Panic Circus, the village with the shops/tents (it was lovely to see Society for Storytelling on site for the whole weekend, but sad that there were fewer retailers this year) and caterers (the Stilton burgers were amazing), and (of course) the setting itself (enjoying tea and cake by the lake). But most of all, it is the opportunity for those random conversations with strangers, who you find yourself sitting with as you wait for an set to start, or with whom you are eating at the same table by the catering vans or in the beer tent – for almost three days we could leave Brexit Britain behind and enjoy conversations about storytelling, storytellers and stories.
Hopefully, you have the sense that FATE is a very worthwhile way to spend a weekend for anyone who is interested in story and storytelling. There is normally a group from Surrey Storytellers at Festival at the Edge, so if you would like to connect with us for next year's adventure in Shropshire, please do drop us a line. Click here to go to the Festival at the Edge website.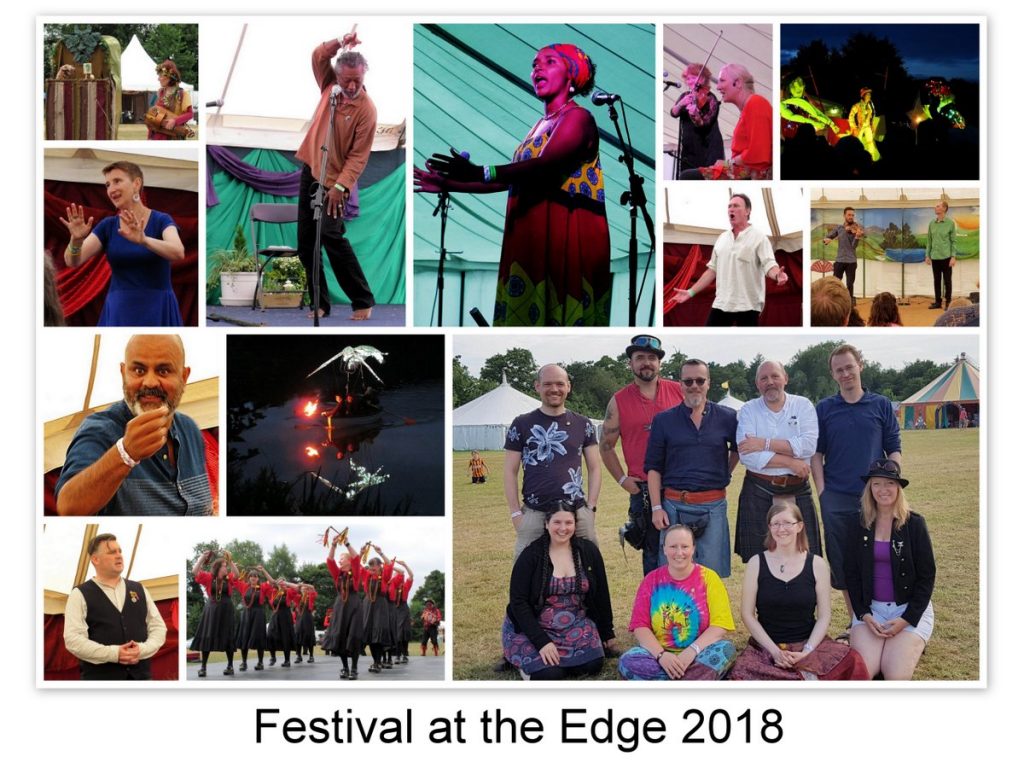 [ Alastair K Daniel is a storyteller and academic who explores aspects of storytelling practice in his own blog 'Talking Storytelling'. ]